JUG-O-Halesite Habanero Unstrained Hot Sauce, 64 oz Growler Bottle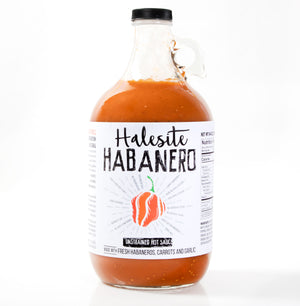 A half gallon of habanero hot sauce left unstrained for a hearty & balanced habanero, garlic, lime flavor. 8 simple ingredients and no unnecessary additives. Made with fresh whole food produce & organic ingredients. 
INGREDIENTS: Organic Distilled White Vinegar, Organic Habanero Peppers, Organic Carrots, Organic Lime Juice, Water, Organic Garlic, Salt, Organic Ground Black Pepper
NO ADDITIVES, NO EMULSIFIERS, NOTHING EVER ARTIFICIAL.
Gluten Free
Vegan
Organic (not yet certified)
Dairy Free
Low Calorie
Low Fat
Low Saturated Fat
Low Cholesterol
Low Sodium
Free of Sugar
Keto friendly
awesome hot sauce
My boyfriend tried it at a fair/craft show and before the bottle was done I was on ordering the jug. Love love love it !
The best!
My husband is OBSESSED with halesite habenaro! He is a hot sauce fanatic. He tries them ALL. He can't stop saying that yours is THE BEST! He fills the mini from the growler and takes it with him wherever he goes!!
Very Good Habanero Hot Sauce
I put hot sauce on most everything, I just like it. I was just trolling the internet and come across Halesite Habanero. Habanero hot sauce is my favorite so I was excited a dived right on in with a jug of the sauce which i have never tasted before. It arrived a few days after I ordered, well packed and in good shape. Now to the important part I guess for most. It has very good habanero flaver and a nice smooth heat to it. One of the best things about getting the jug is you really can work with the sauce and create new sauces with it unlike a lot of other hot sauces. I am very impressed with the ingredient list and would recomend giving it a try if you like habanero flaver. Rock on!
Best product ever
My son and I were on the hunt for a new and different hot sauce when we stumbled upon Halesite Habanero. Love this product !! My son puts this on almost everything, so much that I purchased the jug for him this Christmas. Thank you for a wonderful product
Excellant product
I love this sauce, great consistency and right amount of sweetness and surprisingly hot. I have order many times over the years. The proprietors are great meet them at numerous markets and festivals in the town of Huntington