Halesite Habanero Unstrained Hot Sauce, 7 oz Flask Bottle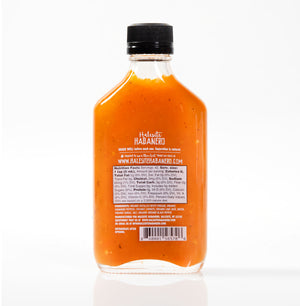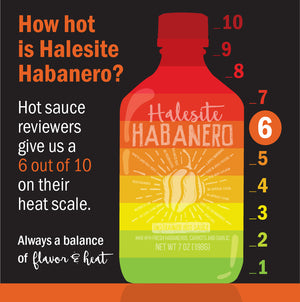 A habanero hot sauce left unstrained for a hearty & balanced habanero, garlic, lime flavor. 8 simple ingredients and no unnecessary additives. Made with fresh whole food produce & organic ingredients. 
INGREDIENTS: Organic Distilled White Vinegar, Organic Habanero Peppers, Organic Carrots, Organic Not From Concentrate Lime Juice, Water, Organic Garlic, Salt, Organic Ground Black Pepper
NO ADDITIVES, NO EMULSIFIERS, NOTHING EVER ARTIFICIAL.
Gluten Free
Vegan
Organic (not yet certified)
Dairy Free
Low Calorie
Low Fat
Low Saturated Fat
Low Cholesterol
Low Sodium
Free of Sugar
Keto friendly
One of the best
Halesite speaks of the habanero. It excites your palate. Everything that a habanero hot sauce should be. Absolutely delicious.
Our Favorite Hot Sauce
We always keep some bottles on hand, my family's "go-to" hot sauce. Perfect balance of taste and heat. Use it on pretty much everything!
My Fav sauce
This is my favorite hot sauce the flavor the heat it's all so perfect
Best hot sauce
Love this hot sauce! It's just the right amount of heat and it's sweet too! I have it with my eggs every morning!
Brad B.
I use a lots of hot sauce and this one is outstanding. Simple, fresh ingredients with just the right amount of heat. Also great in bloody mary's.