Halesite Habanero Unstrained Hot Sauce, 7 oz Flask Bottle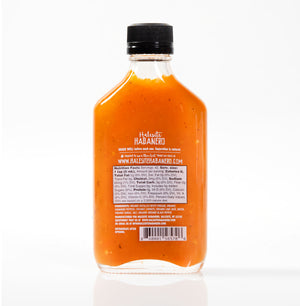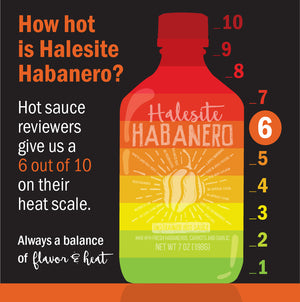 A habanero hot sauce left unstrained for a hearty & balanced habanero, garlic, lime flavor. 8 simple ingredients and no unnecessary additives. Made with fresh whole food produce & organic ingredients. 
INGREDIENTS: Organic Distilled White Vinegar, Organic Habanero Peppers, Organic Carrots, Organic Not From Concentrate Lime Juice, Water, Organic Garlic, Salt, Organic Ground Black Pepper
NO ADDITIVES, NO EMULSIFIERS, NOTHING EVER ARTIFICIAL.
Gluten Free
Vegan
Organic (not yet certified)
Dairy Free
Low Calorie
Low Fat
Low Saturated Fat
Low Cholesterol
Low Sodium
Free of Sugar
Keto friendly
Fantastic product
We have enjoyed this hot sauce for a few yrs a few months ago our ct stew Leonard's stop carrying it I contacted the company directly and had it shipped directly it was easy fast and excellent customer service.and the hot sauce is amazing
So good...really much so
It brings taste and heat, and in the best way...and its made local...I really love this stuff and think you should try it as well.
Love!
I am a Allrecipes all star and have been for many years. I received this hot sauce in a share package and fell in LOVE. It's flavorful and it's perfectly spicy. I just ordered 2 more bottles one for me and one to give away as a gift. A little goes a looong way, it's good on everything!
Best Hot Sauce in the Word!
This by far the best hot sauce I've ever had in my life. I'm from New Orleans and we are serious about out hot sauce and spices. This hot sauce has the perfect combination of both. I hope to see it in every supermarket someday.